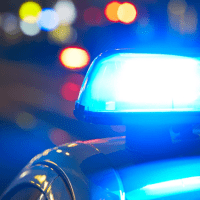 UPDATE: 8/10 3:07 p.m. : Bond has been set for a man arrested Thursday following an incident in which officers had fired rounds at a suspect vehicle after the driver nearly struck police with their vehicle. 
29-year-old Kaleb E. Holzhouser made a video appearance in Knox County Circuit Court Friday afternoon with Judge Raymond A. Cavanaugh. He is facing four Class X felony charges related to methamphetamine as well as a Class 2 Aggravated Battery charge, a Class 3 Possession of Meth under 5 grams, and a Class 4 Possession of a Controlled Substance.
Court records indicate the Class X Felony charges include Meth Delivery of 15-100 grams, Meth Delivery of 100-400 grams, and two counts of Possession of Meth between 100-400 grams.
Assistant State's Attorney Brian L. Kerr read from a police report detailing the events that transpired on Thursday. According to the report a confidential informant told police that Holzhouser had given him somewhere between 100 and 400 grams of methamphetamine.
Officers conducted surveillance on the subject and observed them get into a vehicle. A traffic stop was to be performed, which lead to the events of WGIL' s original story.
After Holzhouser's arrest, he was allegedly found to have less than 5 grams of meth on him as well as a controlled substance, believed to be mushrooms.
Bags that had been left at the residence were turned over to police. Inside they allegedly found 200 grams of meth.
According to Kerr: Holzhouser had a possession of meth charge previously as well as a warrant out of McDonough County for possession of a weapon by a felon, as well as evading and eluding police. Bond on the McDonough County warrant was $100,000 .
Recommendation from the state was to set bail at $1.5M . Judge Cavanaugh instead set it at $750,000 . He also appointed the public defender to represent Holzhouser and set a preliminary hearing for August 27th.
---
ORIGINAL STORY:

One man has been arrested following an incident that involved officers firing rounds at a suspect vehicle Thursday.

According to a press release from the Illinois State Police at approximately 3:45 p.m. an incident took place while Galesburg police officers were attempting to perform a traffic stop in the 400-block of North Cedar Street.

As the officer on the passenger side of the squad car was exiting the vehicle, the suspect vehicle swerved around the car striking the passenger door hitting the officer.

It was noted that officers fired shots at this time. The release did not detail how many, but it was noted that no one was struck by gunfire.

The vehicle in question crashed into a utility pole and the suspect was taken into custody.

The officer struck by the passenger side door was transported to OSF St. Mary Medical Center for injuries sustained from the incident. They were treated and released.

ISP District 7 handled the crash that resulted from the incident, ISP Zone 2 Investigations has taken over the officer involved shooting investigation, and the Galesburg Police Department handled the arrests of suspects involved.

This is a developing story.

Tags: