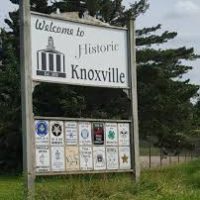 There are two boards in Knoxville that are short on people. During their meeting Monday night, the City Council discussed the idea of possibly merging the Zoning Board of Appeals and the Planning Commission. The ZBA handles special use permits, variances, planned use developments, and amending the zoning map. The Planning Commission covers subdivisions and TIF districts. "I think it's been impractical to try to maintain both boards with not that many people interested or willing to attend the meetings," City Attorney Rob McCoy told the council. "And as we've seen in the past, amending the zoning ordinance it's been a long process: where it goes to the Planning Commission first, then it goes to the ZBA, and then it goes to the council. In many cases we have to have a two step process – but we don't need it to be a three step process." He added that by merging the two and eliminating the Planning Commission would speed up a project's progress.
Also during Monday's meeting, Mayor Dennis Maurer and the council held a moment of silence in honor of the late Dr. Robert Johnson who passed away on Thursday, October 25th. Johnson was a 1st Ward Alderman from 1989 to 1993 where he then became mayor until 1994; then became a 2nd Ward Alderman in 2011 and eventually mayor again until 2016. Maurer said Johnson was instrumental in bringing Courtyard Estates and Love's Travel Stop to Knoxville and the community owes him a debt of gratitude.
Under old business, the council approved the TIF application for 224 East Main Street. Pete Alfano submitted the application for Maurer's Barber Shop and requested $23,000 – the council approved $14,455 in funding.
All Aldermen were present during Monday's meeting with the exception of Ward 1 Jim McGovern who will likely be leaving the seat vacant when his term expires next year.
Three other Alderman terms expire in 2019: 2nd Ward Alderman Kirk Heller, 3rd Ward Alderman Ed Mahar – who will not be seeking re-election, and 4th Ward Alderman Dan Eiker.
The council also approved the closing of Main Street on December 1st for Knoxville's annual Christmas Parade at 1:00 pm.