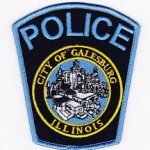 Another four individuals were arrested for meth possession on Thursday and Friday in Galesburg, driving the number of meth related felonies charged in Knox County this year to 68.A trio from Rock Island made up of Cari Coin, David Westby and Samantha Rosenthal are charged with Class 3 felonies after police pulled over their vehicle and a search found meth residue on the passenger seat and a digital scale.
Also 28-year old Jesse Finley was arrested he was stopped and a small amount of meth was found on him.
Finley's already on probation for two guilty pleas to meth possession in 2018.