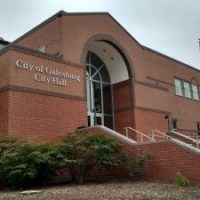 The window to apply to be Galesburg's next police chief has closed and city administration says David Christensen's successor could be named as soon as next month.
City Attorney Brad Nolden says they've received a number of candidates, both from within the GPD and outside it.
The City has also gathered a community panel representative of disparate groups that represent constituencies that will work closely with or be affected by the next chief, that will a key part of the selection process.
Some of those include Fire Chief Tom Simkins, Knox President Teresa Amott, 205 Superintendent John Asplund, CASA Director Sara Robison and police union representative Mike Ingles.
"So we think there's a nice mix of people to provide diverse viewpoints and really focus on the areas that they're experts in that we may not be experts in that they can ask the next chief about," Nolden says.
Candidates will next participate in video interviews and filling out written questionnaires.
The pool will be narrowed down to five at that point, who will go through an assessment center in which law enforcement experts will be brought in for their input.
The remaining candidates will go through a rigorous process of interviews with the hiring committee, community panel, and city council.
Ultimately it's the City Manager Todd Thompson's duty to appoint the police chief, but Nolden emphasizes the desire for input from different community groups.
516 Galesburg residents responded to a survey about qualities they hoped to see in the next chief.