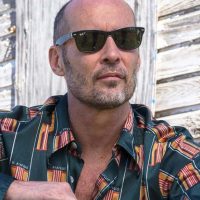 Singer-songwriter Paul Thorn returns to Galesburg Thursday, May 16th bringing his Southern rock, Americana, blues mix to the Fat Fish Pub. The stop is part of Thorns recent tour: "Mission Temple Fireworks Revival" featuring tunes from his recently released studio album "Don't Let the Devil Ride" which peaked at number one on the Billboard Blues Album Chart. He has toured as an opening act for stars like Huey Lewis & the News, Sting, Robert Cray, Bonnie Raitt, Toby Keith, and Jeff Beck. The son of a preacher who learned to sing in church, the Mississippi native tells WGIL he loves being able to connect with people at smaller venues. "You know, when I'm out on the road, I do all types of venues," Thorn said. "I especially like coming to the Fat Fish Pub – I've made so many friends over there. The one benefit of playing at a smaller place is you get to have a brief conversation with pretty much everybody that's there. (If) you play a big festival or something, there's no way you can talk to everybody. There's something about intimate venues like the Fat Fish Pub where, you know, you go there, you see your friends." Thorn will be joined by Chicago-based indie rock blues band Alice Drinks the Kool-Aid. Tickets for tomorrow night's 6:00 pm show at Fat Fish Pub are $35 at the door.
Thorn's next stop is the Castle Theatre in Bloomington Friday night. Other special guests along the tour include the Blind Boys of Alabama, The McCrary Sisters, Bonnie Bishop, and the Preservation Hall Jazz Band.
To hear Paul Thorn's entire interview with Galesburg's Morning News on WGIL click here.