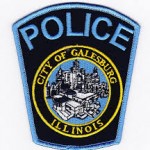 Three finalists for the Galesburg Police Chief job had a full day Monday in the final official step before one is selected, likely before the month's end.
The decision ultimately rests in the hands of City Manager Todd Thompson but he's had a lot of help and input.
The candidates started in the morning on Monday at an informal reception, followed by making presentations to the City Council in closed session.
They also faced interviews from separate panels; once consisting of the Mayor, City Manager, City Attorney, and Human Resources Director, the other with various leaders of groups that work adjacent to the police chief in some way.
Also, each candidate went out to lunch with a different group of city employees.
Pritchard says now Thompson has the written evaluations that all of these individuals filled out on the applicants, helping him to make a decision.
"These were all well-qualified finalists and I expect Todd's absorbing all the comments and issues that everyone's brought forward," Pritchard says.
Pritchard says that last Saturday six finalists went through an assessment center, where external law enforcement experts were brought in to evaluate.
The Mayor says he does believe that particular step might have been helpful in distinguishing candidates.