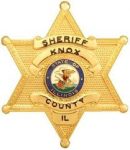 The Knox County Sheriff's Department says they have made an arrest after weeks of investigation into burglaries to area restaurants and bars.
They say Toby Stambaugh was arrested Thursday morning in Abingdon and charged with two counts of burglaries.
Stambaugh was originally arrested on separate charges by Abingdon police.
Before his latest arrest, Stambaugh already had several pending felony cases in Knox County Court including possession of meth, drug trafficking, agg battery, and failure to report an accident or injury.
Some of those charges are related to an incident where police say he fled officers, striking one with his vehicle, leading police on a high-speed pursuit where his vehicle was involved in an accident, crashing into a creek.
He's scheduled to have a pretrial conference on April 6, but these new charges could delay that hearing.