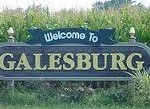 Playgrounds in Galesburg are now open following a new executive order signed Friday by Governor J.B. Pritzker giving local governments discretion to make the decision.
As the cases of COVID-19 in Knox County have been low overall and there have been no trends of spiking, the City of Galesburg made the decision to open all city-owned playgrounds immediately.
However, the following restrictions are in place:
The maximum limit of people in the playground area is 50.
Washing or sanitizing hands regularly is required.
Individuals on the playground should try and stay at least six feet apart from each other.
If physical distancing cannot be done, a face covering should be worn by anyone over the age of two.
Lastly, the city says playground equipment will not be disinfected so use it at your own risk.

Tags: