Five Finger Death Punch with All That Remains and Nonpoint in Springfield
August 19, 2017 @ 7:30 PM

-

11:00 PM

|

$17-$39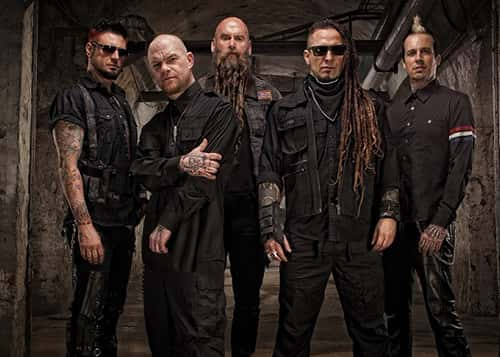 Five Finger Death Punch
The band has co-headlined 2013's Mayhem Festival Tour (US) and frequently can be seen playing the biggest international music festivals, such as Download (UK), Rock Am Ring (GER), Soundwave (AUS) and Knotfest (JP). Five Finger Death Punch are the recipients of the Radio Contraband Rock Radio Awards for "Indie Artist of the Year" in 2011, 2012 and 2013. They were also honored with the Radio Contraband Rock Radio Award for Album (AMERICAN CAPITALIST) and Song of the Year ("Coming Down") in 2012.
Undoubtedly one of the most relevant and successful rock bands globally, FIVE FINGER DEATH PUNCH, dominated 2013 with the releases THE WRONG SIDE OF HEAVEN AND THE RIGHTEOUS SIDE OF HELL ─ VOLUME 1 and VOLUME 2. Both volumes debuted on the U.S. Billboard album chart at #2 (more notably, within a four-month period) and in the top ten mainstream charts all across the globe. The two albums feature three #1 radio hit singles ("Lift Me Up" featuring Rob Halford of Judas Priest, "Battle Born" and "Wrong Side Of Heaven").
All That Remains
An American heavy metal band from Springfield, Massachusetts, formed in 1998.[1] They have released seven studio albums, a live CD/DVD, and have sold over a million records worldwide. The group consists of vocalist Philip Labonte, guitarists Oli Herbert and Mike Martin, bassist Aaron Patrick, and former Diecast drummer Jason Costa. Labonte and Herbert are the only original members. In spite of this, the band's line-up had remained consistent from the release of 2008's Overcome until 2015's The Order of Things, spanning four albums. This line-up changed, however, in September 2015, when long-time bassist Jeanne Sagan left the band, with Patrick taking her place.
Nonpoint
Nonpoint only becomes fiercer with each subsequent album. Their ninth full-length offering and first for Spinefarm Records, The Poison Red, is no exception either. After 19 years in the game, the Florida quintet sustains the same energy that sparked its foundation back in 1997. The riffs crack with neck-snapping intensity, the bass and drums forge an unmatched groove, and the vocals rapidly recount stories of pain and perseverance. The Poison Red remains as raw, ripping, and real as these musicians—Elias Soriano [vocals], Robb Rivera [drums], Rasheed Thomas [rhythm guitar], Adam Woloszyn [bass], and B.C. Kochmit [lead guitar]—get.
Nonpoint are on their way back with a new album last summer. The band released The Poison Red on July 8 which was recorded in February 2016 at Uptown Studios in Chicago IL with Rob Ruccia.
Related Events