TESLA in Peoria
Wednesday, April 22 @ 8:00 PM

-

10:30 PM

|

$45 - $65
Event Navigation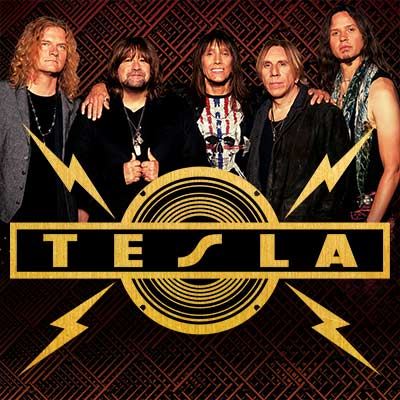 Thanks to their die-hard, loyal fan base and their younger generation offspring, TESLA continues to tour to sold-out crowds around the world. Celebrating 30+ years of kick ass Rock 'n' Roll gives their audience a musical journey that keeps the loyal fans coming back and has newcomers realizing, "Wow, I didn't know they did that song!

The band formed in Sacramento, California in 1984. They started out as City Kidd, until someone suggested they change their name in honor of eccentric inventor Nikola TESLA, who pioneered all things electrical – and who, like any revolutionary rock and roll band, made magic working with the basic forces of nature. In 1996, the band disbanded, with members devoting themselves to solo projects. In 2000, they reformed with a sold out hometown show at the Arco Arena in Sacramento. Their bluesy, soulful sound is strongly embedded in the roots of organic, authentic, 1970s rock and roll. The same roots that produced bands like The Allman Brothers, Grand Funk Railroad, AC/DC, Lynyrd Skynyrd, and Aerosmith.
2020 marks the 30th anniversary of one of TESLA's most iconic albums, Five Man Acoustical Jam. The upcoming 2020 tour will feature performances of the most seminal tracks from this ground-breaking acoustic record. TESLA also visited the legendary London recording studio Abbey Road in June 2019 where they performed, recorded, and filmed a semi-acoustic set that will become their next live album, Five Man London Jam. The new record honors songs from the original live album combined with the wealth of hit songs they've crafted over their 30-year legacy.
Related Events