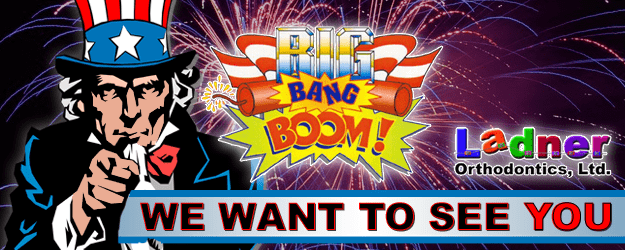 The Laser congratulates our 20 winners of 4-packs of tickets for the VIP viewing area for Big Bang BOOM on the 4th of July at Lake Storey Park in Galesburg. Winners were drawn at random on Monday afternoon (7/01/19) from all who had signed-up at thelaseronline.com over the last few days.
Congratulations to:
BRET LEGG of Galesburg
ALYSSA MECUM of Knoxville
MISTY HANEGHAN of Galesburg
ARMANDO VASQUEZ of Galesburg
RACHEL VARNOLD of Galesburg
AMANDA FELGAR of Abingdon
AMANDA BANK of Galesburg
MELODY GILBERT of Galesburg
ALLYSON MILLER of Roseville
KAYLI WELLS of Galesburg
DAVID HUNZIKER of Galesburg
CHEREDITH NELSON of Viola
PATTY RAY of Galesburg
JASON WILLIAMS of Monmouth
JEFF YOUNG of Galesburg
DEB GAMBLE of Galesburg
CHASE KEITH of Galesburg
JACOB SHARP of Knoxville
MARLENNA SMYSOR of Cameron
TRISTA BAKER of Abingdon
The Big Bang BOOM VIP tickets get you into a reserved, prime viewing area. The VIP section offers a clear view of the launch site across the lake as the fireworks explode overhead and reflect off the water. It truly is one of the best areas from which to watch the show! There's also a sound system set-up so that you can hear the synchronized soundtrack to get the full impact of the show. And you don't have to carry in your own lawn chairs as there will already be chairs set-up waiting for you. And these tickets are not available for purchase. Next to being a sponsor of the fireworks show, winning them is about the only other way to get your hands on them!
Thank you to everyone who signed-up for a chance to win and we hope to see you at Lake Storey Park on the 4th of July for Big Bang BOOM with Pure Rock 92.7 FM, The Laser!