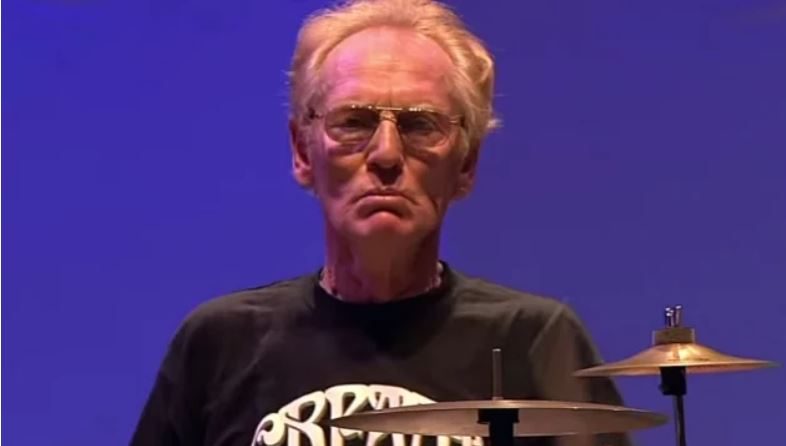 Ginger Baker, one of the most influential drummers in rock history, died today at 80. No cause of death was given but he had been in failing health for some time.
Baker will be remembered mainly for his work in Cream (with Eric Clapton and bassist Jack Bruce) and in the short-lived super-group Blind Faith with Clapton, Steve Winwood and the late Ric Grech.
Peter Baker was born on August 19th, 1939 in London.
He got his start in the '60s band Blues Incorporated.
He'll be best remembered as the drummer in two groups with Eric Clapton: Cream and Blind Faith.
He got the nickname Ginger for his flaming red hair.
Survived heroin addiction and became clean in the 1980s.
Born Peter Edward Baker on August 19th, 1939 in London and nicknamed Ginger for his flaming red hair, he took up the drums at age 17. In the early '60s, he teamed with Bruce as the rhythm section in the influential British jazz-and-blues bands Blues Incorporated and The Graham Bond Organisation. Shortly after leaving the latter, he jammed with Clapton, who suggested they form a trio. The cantankerous Baker agreed to ask Bruce, even though the two were no longer on speaking terms.

With Cream, Baker played on the Top 10 hits "Sunshine of Your Love" and "White Room," but his jazz-rooted drumming was also the backbone of the extended jams (like "Spoonful" and "Toad") that helped make their reputation. Major drug use and the clash of three strong personalities eventually ended the band.

Baker and Clapton immediately worked together again, joining Steve Winwood of Traffic  in Blind Faith, whose "Had to Cry Today," "Can't Find My Way Home" and "Presence of the Lord" became staples of early album-rock radio.

After Blind Faith, Baker led a rock big band called Air Force, then moved to Africa, opening the Lagos, Nigeria studio where Paul McCartney and Wings were supposed to have recorded Band on the Run. Although Baker later claimed that he'd made elaborate arrangements for that to happen, Macca and company immediately switched studios, leaving him holding the bag.

He went on to the rock bands Baker-Gurvitz Army and BBM (with Bruce and the late Gary Moore), Hawkwind, various jazz and African groups, and stints in former Sex Pistol John Lydon's Public Image Limited as well as the American band Masters of Reality. Baker also dabbled in olive farming in Italy and raising polo ponies in California, Colorado and South Africa.

In 2005, Cream reunited for four concerts at London's Royal Albert Hall and three at New York's Madison Square Garden. A live album and DVD were released from the London shows.

In 2009, Baker released Hellraiser, the Autobiography of the World's Greatest Drummer, which he co-wrote with his journalist daughter Ginette. He leaves another daughter, Leda, and a son, Kofi, also a rock drummer. In 2010, 50 years after his first marriage, he married his fourth wife, Kudzai Machokoto, a 28-year-old Zimbabwean nurse.

Rush's Neil Peart told Rolling Stone in a 2009 profile of Baker, "He set the bar for what rock drumming could be. Every rock drummer since has been influenced by Ginger — even if they don't know it."

Tags: