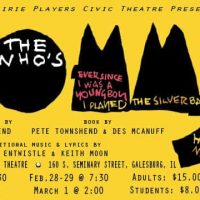 The Who's iconic rock opera Tommy will open a two-weekend run at Prairie Players Civic Theater thisFriday.
It's the story of Tommy, a boy who witnesses a traumatic event that shocks him into losing his ability to hear, speak and see, before becoming a pinball playing superstar.
Tommy is the first-time directing for Scott Rasso, although he brings a wealth of experience acting in theater, including in the 2018 Prairie Players production of Joseph and the Amazing Technicolor Dreamcoat.
Joseph Director Missy Roberts asked Rasso if he had considered directing.
Rasso said he hadn't but if he was going to direct a show it would be The Who's Tommy, a show he's loved for decades.
"I discovered it at a very impressionable time and it's been very therapeutic to bring it to life," Rasso says.
Even after knowing the show so well for years, Rasso has discovered new angles of nuance in the script and songs.
Rasso wants audiences to be prepared for some elements of the show that may be difficult for some.
There are scenes of domestic violence, child abuse, molestation, and drug abuse.
Tickets are on sale now for shows Friday, Saturday, Sunday this weekend and next.  Seats are $15 for adults, $8 for students.